In India, there is a very bad trend catching-up. It was first with booted-up hatchbacks a trend started by Tata Motors with the launch Indigo of 2003. Now the trend of launching badge engineered car by Volkswagen and Renault. I am very disappointed indeed. For Maruti Suzuki bashers who criticized Maruti Suzuki for launching old products – why no harsh words for Skoda Rapid or this Renault Pulse ?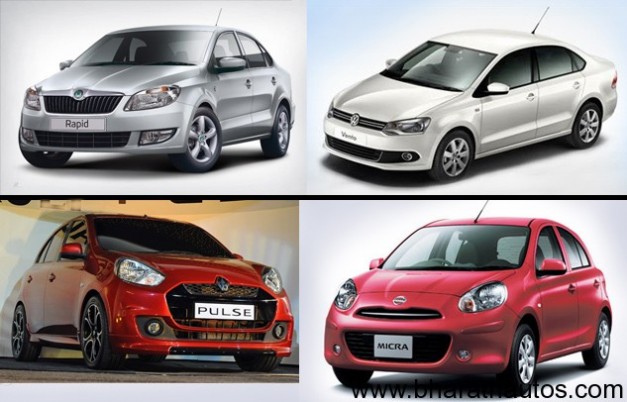 Volkswagen India recently launched their entry level sedan car for the Indian market. This car was called the Vento and it was basically an elongated version of the Polo. That's alright I guess, but what confuses me, or rather bothers me is the fact the Skoda, which by the way is owned by VW, has come up with their entry level sedan vehicle, the Rapid, which in fact is almost the exact same car as the Vento. They both have the same engines, almost identical body deigns and boring interiors. Why would you go through the trouble of giving us the same car under two different brands, it just doesn't make sense. The Indian consumer is getting smarter, but these German dudes at VW obviously don't get that. Sure, they might want extra sales along a broader line, but to me it's just plain lunacy.
The same goes for the Renault Nissan alliance. Nissan has already launched their small hatch called the Micra and now Renault is launching the exact same car, only with a different badge and name that is called the Pulse. It's just not making sense to me. Obviously they are in total disregard for the customer who requires a variety of cars, not variety in the sense when all the cars are the same but have a variety of names. It's just not a good thing to do, no matter how beneficial it is for your company. What these companies are really doing is wasting valuable resources and time to aim for market access. It's disappointing and insulting. It all comes down to which brand is stronger at the end of the day, some people might not buy a Nissan Micra, but they would buy a Renault Pulse, because they prefer the brand. This is how you confuse the buyer in terms of value and quality.
Also see  –Automobiles – Threatening Dangers (Updated)
Tata Motors stunning concept vehicles of all-time
– By Azhar
(Special thanks to our reader Azhar for the article, you guys also keep sending us more articles)