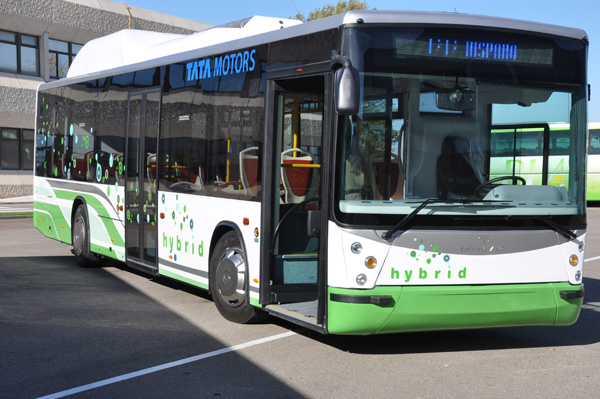 Tata Hispano Motors Carrocera SA, Tata Motors' wholly owned subsidiary in Spain, will be supplying 10 CNG Series Hybrid low-floor city buses, to be built on Tata Motors chassis, to EMT Madrid, a Madrid city public transportation company. The buses will be delivered in 2012. Meant for urban transportation, the Tata Hispano CNG Hybrid is powered with a series hybrid system. For a series hybrid vehicle, the engine is not connected to the driveline.
Instead it just runs a generator which charges the battery pack at a steady power. The battery pack provides electrical energy to the motor which in turn generates tractive power. Besides, the engine operates on a constant speed, constant load mode, and maximising engine efficiency irrespective of large variation in vehicle speed and frequent stops and starts.
The low-floor bus (floor height: 350 mm) is equipped  with heater,  air-conditioner,  wheel chair, baby seat, space for luggage, security cameras, WIFI, electrical ramp, ticketing machine, reverse camera, electronic display board,  electrically operated in-swing and out-swing doors and kneeling facility allowing easy entry and exit, reducing halt time and trip lengths. Electronically controlled air suspension (ECAS) and electronic braking provide excellent ride quality, handling and passenger comfort. With high starting & smooth acceleration, and a maximum speed of 70 kph, the Tata Hispano Hybrid is an innovative solution for fast and comfortable urban transport in an environment-friendly manner. The Tata Hispano CNG Hybrid offers substantial improvement in fuel economy and emissions compared to a conventional bus. As a result, the technology leads to lower emissions, thereby contributing to cleaner air.