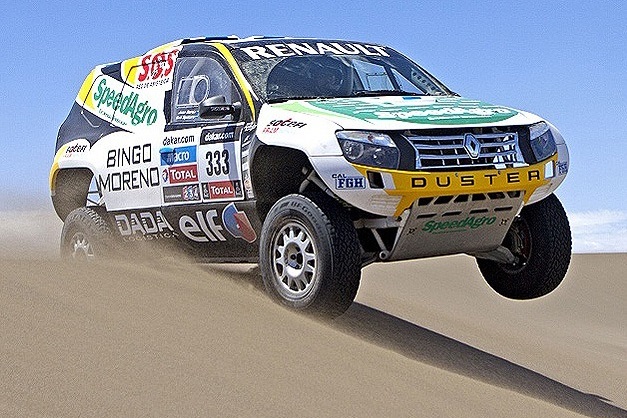 The Dakar Rally is one of the most famous and peculiar off-road motor sporting race in the world. Renault has now decided to field its Romanian-made Duster SUV in the world's toughest endurance competition, the Dakar rally which will be held in South America from January 5th to 15th 2013. Renault would be prepping two Dusters with two crew members each for the Rally.
The Dakar Rally Duster will be piloted by two teams comprising participants from Argentina– Emiliano Spataro and Benjamin Lozada in the first Duster and Francisco José García and Mauricio Malano in the second Duster. The competition will see participants traverse across 8,000 kms of South American countries of Lima, Peru, Argentina and Santiago.
Renault has released a video, images and details of the Dakar Rally Duster. It comes fitted with ventilated disc brakes with powerful six-piston callipers at the front and four-pistons at the rear. The suspension system is also highly modified to overcome the tough terrains the rally would have to offer, a four-link front suspension and a double-trapeze rear suspension.
Unlike the stock model, the rally Renault Duster will be powered by a 3.6-litre V6 petrol engine and produces 306bhp and 442Nm of torque. This is the same engine that sits in the racing spec Duster. Power is transmitted to all four wheels via a 6-speed sequential gearbox. It would be exciting to see now how Renault Duster performs at the Rally and will it be a success over there or not!

Check out more pictures and video below the jump.
Also see – Dacia Duster received 2 new modification programs from Eila