A video posted LIVE on Facebook, shows how a bunch of KTM showroom employees are seen mistreating brand new KTM Duke 390 and Duke 250.

Among the employees, one person did telecast a LIVE video of the event on his Facebook and tagged Bajaj India, KTM India, KTM Trivandrum and some KTM groups on Facebook. This video soon got viral and brought strong criticism to the uploader as viewers were not at all happy as the showroom employees were messing with the brand new KTMs.
In the video shot at KTM Trivandrum City Vazhuthacad Showroom, we can see at least five men dancing inside the KTM workshop and revving the KTM twins to redline without stop (breathing space). The KTMs seen in the video are brand new and look set to reach the hands of customers. We hope that the mistreated bikes don't get into the hands of any customers after the abuse they've suffered.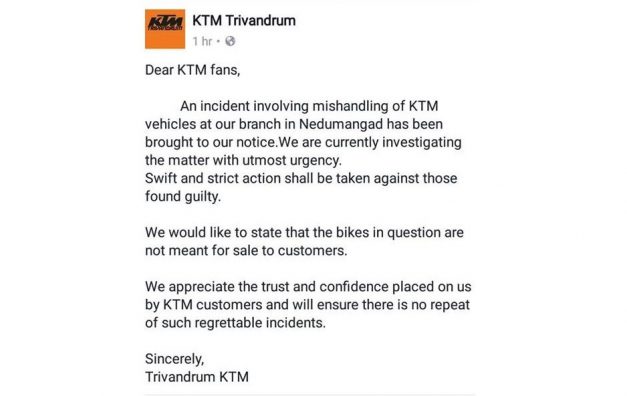 Showroom employees are just intermediary, and have the responsibility to deliver brand new KTMs in the best possible way to the rightful owners, and not to abuse it at their freewill.

To read more on KTM India, Click here
Also see: 2017 KTM Duke range launched in India – 200/250/390cc